The American Rescue Plan was passed, giving extended unemployment benefits and stimulus checks, amid continuing unemployment from the Covid-19. After a pandemic lull, mass shootings are back in the news with calls for gun control. An illegal immigrant surge on the Texas border brings thousands of unaccompanied children are being housed in holding facilities. The trial of the cop who kneeled on George Floyd's neck while he said, "I can't breath" began. One-third of Americans have already received at least their first Covid-19 vaccine dose, while others refuse to get inoculated.
American Rescue Plan and the Third Stimulus Check
On March 17th the U.S. issued 90 million stimulus checks worth $242 billion. The checks began processing on March 12 and some Americans have already seen the deposits as pending prior to today's official payment day.
Additional batches and payments will be sent in the coming weeks by direct deposit and through the mail as a check or debit card. Full $1,400 payments went to individuals with adjusted gross incomes of up to $75,000, heads of households that make up to $112,500 and married couples filing jointly with annual income up to $150,000. But it phases out quickly after that and is completely phased out for those earning more than $80,000.
In addition to stimulus checks, the latest stimulus package also extends a per-week $300 jobless insurance boost until Sept. 6 and augments the child tax credit for a year. It also provides nearly $20 billion into the Covid-19 vaccination effort, $25 billion into rental and utility assistance, and $350 billion into state, local and tribal relief.
Covid-19 Unemployment Persists
Initial unemployment insurance claims have remained just under one million since last September. The third week of March saw 770,000 first-time unemployment claims and 4.4 million continuing claims.
Read the Covid-19 Timeline for more March 2021 Covid-19 news.
Another Toilet Paper Shortage?
There may be another shortage of toilet paper due to the lack of shipping containers. High demand by China for shipping containers means a backlog in wood pulp shipments from Brazil, one of the biggest suppliers of pulp for toilet paper. Apparently, we're wiping our bums with the lungs of the earth. Even worse, one of the world's largest container ships in the world was stuck in the Suez Canal for a week. The ship, which is the size of the Empire State Building and can carry 20,000 containers, delayed 50 cargo ships per day through the canal, tightening the already constrained supply of containers.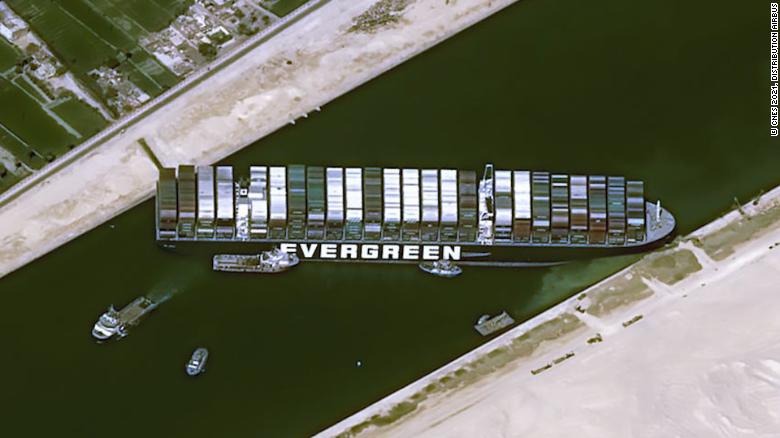 Republicans Try to Limit Voting Rights
Trump convinced 3 out of 4 Republican voters there was widespread voter fraud in the 2020 election, even without any evidence. In fact, Texas Attorney General Ken Paxton's office spent 22,000 hours looking for voter fraud and uncovered just 16 cases of false addresses on registration forms, according to The Houston Chronicle.
Republican legislators in Texas, Georgia, Arizona, Florida and Wisconsin — many of whom joined with Trump to cast doubt on the system — are legislating to restrict the vote, arguing that new measures are needed to restore trust in the system. Most of the measure tighten ID requirements and reduce voter rolls, limit early voting, and generally make voting more difficult. Many of the provisions would directly restrict early voting used during the pandemic, like overnight early voting and drive-thru voting, as well as mail-in voting, which Trump particularly protested. Due to the high number of drive-in drop offs of mailed ballots last year, the Texas restrictions propsed even ban tents and garages as polling places.
Georgia was the first to pass so-called new Jim Crow voting restrictions, including limiting drop boxes for ballots and ID requirements for voting by mail. It even outlaws giving water to voters waiting in line. The Georgia law was signed by the Governor, surrounded by white men, in front of a painting of a Georgia slave plantation.
In response to State action, there are calls to overhaul the US election system at the Federal level, including making election day a national holiday, funding national elections, killing the filibuster, and preventing gerymandering.
Mass Shootings and Gun Control in the News
On March 16, a gunman in Georgia killed eight people, six of whom were Asian American women, as the nation sees an uptick in racist attacks toward Asian Americans. But gunman Robert Aaron Long, 21, told police that the attack was not racially motivated and claimed to have a "sex addiction," with authorities saying he apparently lashed out at what he saw as sources of temptation.
A week later, a man in Boulder killed 10 people, including one police officer, when he opened fire at a grocery store.
Accused Boulder supermarket gunman Ahmad Al Aliwi Alissa was a "loner" who lived in his family's basement and never had a girlfriend, according to a relative. Then gunman immigrated to the US from Syria as a child and became a US citizen. He bought the AR-15 pistol legally a week prior to the attack, after passing the background check.
Meanwhile a mass shooting was probably averted in Atlanta when a grocery store worker alerted police to somebody loading weapons inside a restroom stall. The suspect had six guns including an AR-15 and a shotgun. He was also wearing body armor.
In response, President Biden urged the Senate to pass a House bill expanding background checks and extend the background check review period. Meanwhile a new assault weapon ban was introduced, which may also include provisions for tracking 3D printed or DIY gun build kits, so-called "ghost guns", which don't require registration.
Covid-19 brought a lull in mass killings during the pandemic in 2020, which had the smallest number of such assaults in more than a decade. There were two lone gunman mass shootings not tied to gang activity or domestic violence in 2020, while the Gun Violence Archive counted 47 mass shootings that killed 185 from all gun violence. Compared to the 100-300 people who die in mass shootings, around 14,000 people are shot and killed in all homicides each year – in addition to more than 24,000 suicides carried out with firearms annually.
Trial Begins for Cop Charged in Death of George Floyd
The trial of Derek Chauvin, the cop who knelt on George Floyd's neck for nine minutes as he was saying "I can't breath", began in Minnesota.
After George Floyd allegedly purchased cigarettes with a counterfeit $20 bill, the police were called. A store employee called the police to report that Floyd had passed "fake bills", was "awfully drunk", and "not in control of himself". Following a brief struggle, Floyd was cuffed and restrained at which point Derek Chauvin kneeled on his neck for 9 1/2 minutes.
The autopsy conducted on Floyd that fentanyl and methamphetamine in his system, a combination known as a speedball. He noted the report showed Floyd had arteriosclerotic and hypertensive heart disease, hypertension and sickle cell trait. Floyd also purportedly told the officers that he had COVID-19.
Floyd's death kicked the Black Lives Matter movement into higher gear nation-wide, and prompted police brutality protests worldwide. The Chauvin trial is Minnesota's first criminal case to be televised and livestreamed.
Immigrant Surge on the US Southwest Border
Apprehensions and deportations are reaching a 20-year high on the American Southwest border, with an alarming number of unaccompanied minors. The surge has created a backlog in Border Patrol stations, with over 18,000 children in custody.
About two-thirds of unaccompanied children caught at the border since October, 2020 have been from Guatemala, El Salvador and Honduras. Most have crossed the Rio Grande into Texas. Central America has recently been battered by hurricanes and slumping economies in the wake of the COVID-19 pandemic, which has spurred more migration.
Kids often split from older siblings or family members before crossing the border, although some make the trip alone. If the parents and children entered as a family, they could be expelled under Title 42, a Trump-era health order to limit the spread of COVID-19.
FEMA opened so-called"decompression centers" in Dallas and Midland to take more children out of border patrol custody. The Dallas Convention Center will house thousands of teenage boys stopped crossing the border unaccompanied.
Australia Coast Floods Worst in Decades
After three years of drought and wildfires that ended in February 2020, the southeast coast of Australia is having the worst flooding in decades. Thousands of people have been forced from their homes and hundreds more had to be rescued from the rising floodwaters that have isolated dozens of towns in Australia's most populous state. Read more about what happened in February 2020.
Read the Covid-19 Timeline tracing the pandemic back to the outbreak.
Catch up on News You Missed