Welcome to the Tod Lock 2015 Year in Review
Tuck in your shirt and roll up your sleeves; it's time for the top news headlines of 2015.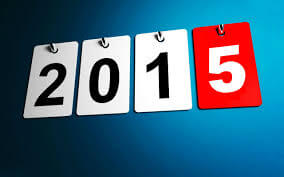 January
New Year's Day January 2015 began with freezing rain so I skipped the 5K Commitment Day run because anybody running in that weather should be committed.
ISIS terrorists shot up the Paris office of satirical magazine Charlie Hebdo and tried to barter hostages elsewhere.
The nation was rocked by "Deflate Gate" from the New England Patriots' playoff game.
#Blizzard2015 didn't live up to its hype despite the name Juno given to it by the Weather Channel to boost ratings.
And a growing number of homeschoolers protested childhood vaccinations as Disneyland had a measles outbreak and the Ebola outbreak in Dallas was forgotten.
February
In February the New England Patriots won the Super Bowl.
ISIS and Al Qaeda feuded East Coast / West Coast rapper style about who is the baddest Islamic terrorist group while a hostage is burned alive and drone attacks continue.
In Alabama politicians fought a Federal order to give gay marriage equal rights, claiming Christian values outweighed laws. Alabama was the 8th U.S. state to ban Sharia law, so as not to allow consideration of religion in state courts.
March
In March police officers were shot in Ferguson, MO during protests over the officer who shot 18-year-old Michael Brown last summer being cleared of charges. The police chief resigned after a Justice Department investigation cited widespread racial bias in the city police department.
Tod and Liz were married in a sunset ceremony on the beach in Key West, Florida and started their married life together by buying a house in the burbs. Wedded bliss ensued.
The co-pilot of a German passenger jet barricaded himself in the cockpit and crashed it full speed into a mountain in the French Alps, killing all on board.
April
In April Dzhokhar Tsarnaev (Doe-kar Sar-nah-ev) was found guilty of using a weapon of mass destruction in the Boston Marathon bombings.
In Yemen, Saudi Arabia and other Arabian peninsula countries have been conducting airstrikes against Houthi rebels who seized power. Elsewhere in Yemen US drones bombed Al Qaeda militants and in Pakistan US drones killed terrorists plus American and Italian hostages in the process.
In Baltimore riots broke out after the funeral of Freddie Gray who died from spinal cord injuries while riding unrestrained during a "rough ride" in a police van following his arrest. In Ferguson, MO more people were shot amid new protests in support of the Baltimore riots.
May
In May the U.S. Supreme Court heard arguments about whether states have the power to ban same-sex marriage. The case challenges state bans and is expected to have nationwide impact.
Verdicts in two other cases were reached in May. New England Patriots Quarterback Tom Brady was benched and the team was fined over the deflategate scandal. In less talked-about news, Dzhokhar Tsarnaev was given the death penalty for the Boston Marathon bombing.
Gunmen with links to ISIS wearing body armor and carrying assault rifles were killed and a policeman wounded in the Dallas suburb of Garland, TX outside an exhibition of cartoons depicting the prophet Mohammed. The cartoon contest was sponsored by the anti-Muslim group American Freedom Defense Initiative.
June
In June Bruce Jenner transitioned to Caitlyn Jenner, appeared as a woman on the cover of Vanity Fair magazine, and dominated the news.
The Dallas area ended a four year drought getting the average annual rainfall already this year with widespread flooding.
In Syria a terrorist on guard duty outside ISIS headquarters posted a selfie to social media. Discovered quickly by the US military, 22 hours later three guided bombs destroyed the entire building.
The Supreme Court ruled that state bans on same-sex marriages are unconstitutional, making the US the 21st country to legalize it.
July
In July the unemployment rate fell to 5.3 percent, the lowest in seven years, as Americans either retired or abandoned their job searches in an economy not fully recovered.
After last month's shooting in a black church in Charleston, the South Carolina legislature voted to remove the Confederate battle flag from state grounds.
The US Women's National Soccer Team was honored with a ticker tape parade in New York City, the first time ever for a women's team, after winning their third World Cup title.
In Chattanooga, TN Muhammad Youssef Abdulazeez opened fire at two military facilities, killing five service members before being shot by police. Abdulazeez, a naturalized American citizen who identified as Palestinian, was suffering from depression and substance abuse, but was not associated with terrorist groups.
August
In August police shot a looter amid protests in Ferguson, Missouri on the anniversary of the shooting of Michael Brown.
The first Republican presidential debate of the 2016 election season saw Donald Trump emerge as the front-runner with more than a year before the election.
The United States reopened the American Embassy in Cuba after 54 years, and even Amazon.com is preparing to ship goods there.
The US stock market took a roller coaster ride, rebounding after the biggest one-day drop in four years spurred by fears of China's economy and the low price of oil.
September
In September, Kim Davis, a county clerk in Kentucky, was jailed for refusing to issue marriage licenses to same-sex couples. Conservative presidential candidates and others have protested her incarceration citing her religious freedom to deny the licenses.
14 year old Ahmed Mohamed was invited to the White House to meet President Obama following his arrest and suspension after some at his school in Irving, Texas thought the homemade digital clock he made from a pencil case was a bomb.
And Europe has struggled to respond to an historic wave of people fleeing conflict and destruction in the Middle East and North Africa – primarily from Syria where a civil war has raged for more than four years.
October
October began with a mass shooting on a community college campus in Oregon that left nine people dead and nine wounded. The shooter also died.
Torrential rains from hurricane Joaquin swamped the Carolinas with more than a dozen deaths caused by flooding and dam breaches, and a container ship was sunk in the storm with more than 30 on board.
Russia moved troops into Syria while a Doctors Without Borders hospital in Afghanistan was bombed accidentally after Afghan forces called for an air strike from the American military.
November
November began with the downing of a Russian passenger jet in the Sinai peninsula in Egypt. Clues suggest that ISIS planted a bomb aboard the plane enroute to St. Petersburg from the resort town of Sharm el-Sheikh. The jet exploded in midair killing all 224 people on board.
Liz successfully completed the Ironman Arizona triathlon – 140.6 miles of swimming, cycling and running to become an Ironman.
And three teams of armed ISIS suicide bombers carried out simultaneous attacks on six locations in Paris killing 130 people and wounding hundreds more.
December
In December the Chicago Police Superintendent was asked to resign and the Department of Justice was asked to investigate the department amid protests over the shooting of Laquan McDonald caught on dashcam video.
On December 2nd American citizens Syed Rizwan Farook and his wife from Pakistan Tashfeen Malik launched a mass shooting terrorist attack and attempted bombing in San Bernardino, California. Fourteen people were killed and 22 were seriously injured before police shot them.
Bill Cosby was charged with sexual assault for drugging and raping one of 58 women who have accused him.
Donald Trump was the clear front runner in the Republican Presidential campaign, despite or because of insulting many people, opponents and groups including banning Muslims from entering the US.
And 11 people in the Dallas area were killed by tornadoes the day after Christmas amid widespread storms that brought flooding, snow and ice to much of the country. 2015 ended as the warmest December and year ever with the most rainfall ever recorded in Dallas.
Happy New Year!
And that's the Tod Lock 2015 Year in Review. Last year's headlines in the time it takes to put on a freshly ironed, starched shirt. Keep it buttoned up.
Catch up on News You Missed