In February 2021 a winter storm sacked the South, Trump escapes second impeachment trial, Perseverance lands on Mars, and long-term unemployment is persistent in the pandemic.
Winter storm Uri freezes out Texas
On Valentine's Day an arctic cold front brought record low temperatures that put nearly half the country under a winter storm warning.
In Texas, millions of homes and businesses had no power, While others endured rolling blackouts. There was snow on Galveston beach, And 6 inches of snow in San Antonio.
The unprecedented cold, snow, and ice left 4 million people without power and made nearly half of all Texans boil their tap water. The entire state was under a winter storm warning. A Federal major disaster was declared.
It was the worst cold snap in Dallas / Ft. Worth history with temperatures dropping below zero briefly and stayed well under freezing for nearly a week. Covid-19 vaccinations were shut down, grocery stores ran out of food, gas stations ran out of fuel, and fire departments struggled to keep up with calls for fires and flooding. Water mains burst and frozen pipes flooded homes and buildings while icy roads delayed already overwhelmed plumbers.
Problems with the power grid began almost immediately when electricity demand surged just as the storm froze up generating capacity. Most of the power outages were due to losses in coal, natural gas and nuclear energy, according to ERCOT, the organization that runs the grid. Though frozen wind turbines were a contributing factor, wind shutdowns accounted for less than 13% of the outages. Of the 46,000 megawatts of generation that went offline, ERCOT officials said 28,000 megawatts came from thermal sources such as coal, gas and nuclear plants, and 18,000 megawatts were from renewable energy, namely solar and wind. While wind turbines and many power plants failed due to lack of winterization, others couldn't run due to lack of natural gas that was frozen in the lines.
Governor Abbot Plays Politics, Blames Renewable Energy on Fox News
However, facts didn't stop Texas Governor Republican Greg Abbot and others from promoting fossil fuels and playing politics by blaming renewables and spreading fake news about a nonexistent green energy mandate.
Government decisions not to require power plants to withstand extreme freezing temperatures and its longtime policy of operating independently from other grids in the country left the system unprepared for the winter storm. Operating as a separate entity and not crossing state lines, the Texan power grid keeps federal overseers away. In Texas, ERCOT manages the grid, Oncor delivers the electricity, and independent businesses provide the power sold at rates set by the Public Utility Commission by electricity brokers and retailers. Some Texans with variable rate electricity plans saw bills over $10,000.00.
How Many People Died from Winter Storm Uri?
Hundreds were hospitalized and many died from carbon monoxide poisoning after using cars, stoves, charcoal grills, or other dangerous ways to provide heat. At least 44 deaths have been linked to severe weather this week. The economic toll from the storms could reach as high as $50 billion.
135 Car Pile Up in Ft. Worth
In Fort Worth, Texas at least six people died when 135 vehicles were involved in a massive ice-related wreck the morning of February 11th on Interstate 35W. The scene stretched for nearly a mile in the southbound lanes of the interstate just north of downtown.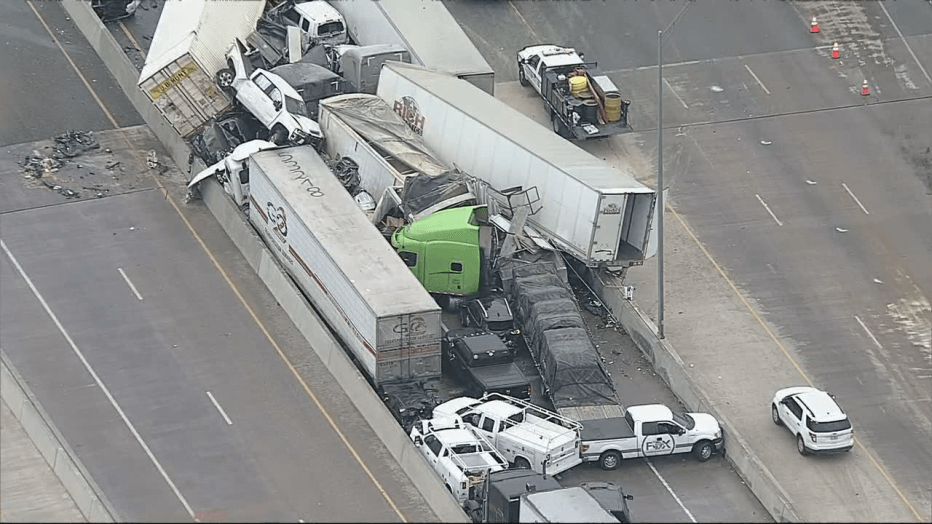 Trump Escapes Second Impeachment
Donald Trump escaped his second impeachment trial when the Senate failed to reach a 2/3 majority vote against him. Six people died during the capital building riot on January 6, and two police officers commit ted suicide afterwards.
Perseverance Lands on Mars
NASA landed Perserverance, the car-sized, six-wheel rover, on the surface of Mars. The rover carries a microphone and equipment to search for past life. It even has a helicopter drone to conduct aerial missions.
The US Economy – Long-term Unemployment Persists
Almost 40% of jobless workers are long-term unemployed – meaning out of work for at least six months, nearing the record 46% set following the Great Recession in 2010.
Covid-19 News
February 2021 began with 106 million Covid-19 cases and 2.3 million deaths worldwide. COVID-19 seems to be entering a new stage where the vaccine rollout and reports of lower recorded transmissions have the public eager to move on from lockdowns and social-distancing mandates. But health officials have warned that cases can increase and there are variants circulating that may render current vaccines less effective.
Catch up on News You Missed