Robotaxis have been approved for use in San Francisco by Alphabet and General Motors, despite some previous issues, and expansion to other cities is planned. In the realm of AI, concerns are rising, with Geoffrey Hinton warning about chatbots surpassing human intelligence, and criminals creating their own malicious versions of ChatGPT. However, there are positive strides as well, with AI aiding in groundbreaking research for new gene therapies, though these advancements also come with inherent risks and uncertainties. Read more AI news.
NASA recently corrected a serious software error that caused Voyager 2 to lose contact with Earth; the spacecraft is now functioning normally. India achieved a historic milestone by successfully landing its Chandrayaan-3 mission on the moon's south pole, just days after a Russian lunar mission crashed. Meanwhile, the International Space Station is set to retire by 2031, with a focus shifting to commercial space platforms. Despite geopolitical tensions, the U.S. and Russia continue their space cooperation until at least 2028. Lastly, the U.S. Space Force has activated its first targeting squadron, focused on space-based intelligence and weaponry. Read more space and technology news.
Climate, weather, and natural catastrophes are causing significant devastation across North America. Hawaii's island of Maui faced the deadliest wildfire in U.S. history, killing over 100 people and destroying thousands of buildings, fueled by hurricane winds. Meanwhile, a heat dome over the West and South of the U.S. has led to excessive heat alerts, pushing temperatures above 100 degrees, with implications for energy supply in places like Texas. Canadian wildfires have ravaged an area the size of Alabama, while the heat-related death toll in the U.S. continues to rise. In a contrasting event, Tropical Storm Hilary ended California's drought with torrential rains, marking the state's first tropical storm in 84 years. Read more weather and climate news.
Former President Trump and 18 of his allies have been indicted on various charges, including efforts to alter Georgia's 2020 election results. This brings Trump's total to 91 felony charges, and the first President to pose for a mugshot. Meanwhile, the first Republican presidential primary debate occurred in Wisconsin, with several candidates vying to replace Trump. In North Carolina, the state congress passed "anti-woke" laws affecting LGBTQ rights and efforts to curb climate change, reflecting a broader trend of Republican-led anti-LGBTQ legislation across the country. Despite these setbacks, the number of Americans identifying as LGBTQ is on the rise, according to recent surveys. Finally, conservative backlash against Pride Month support has impacted sales for companies like Target and Bud Light, although some companies like Anheuser-Busch have committed to continue supporting the LGBTQ community. Read more political news.
Yevgeny Prigozhin, the leader of the private military company Wagner Group died under suspicious circumstances in a plane "crash" in Russia. Read more about Yevgeny Prigozhin's death.
Robots, ChatGPT, AI, and LLM Are Taking Over – What Could Go Wrong?
Meet George Jetson – Robotaxis Serving Riders in San Francisco
After years of testing with just-in-case humans behind the wheel, riders can now hail completely driverless cars to ferry them across the winding, hilly, foggy streets of San Francisco. Robot cars from Alphabet, the parent company of Google, and General Motors were both given the go-ahead, despite the fact that during testing the robocabs were often frozen in the city's streets and created traffic jams. The robots' occasional struggles to interpret traffic conditions have in some cases delayed first responders, obstructed public transit, and disrupted construction work. The move was inevitable, given that California passed a law in 2012 that requires automated vehicles to roam their roads. GM plans to expand their Cruise taxi service to Los Angeles, Dallas, Austin, Miami, Atlanta, and Nashville, and Alphabet wants its Waymo cars in L.A. and Austin next.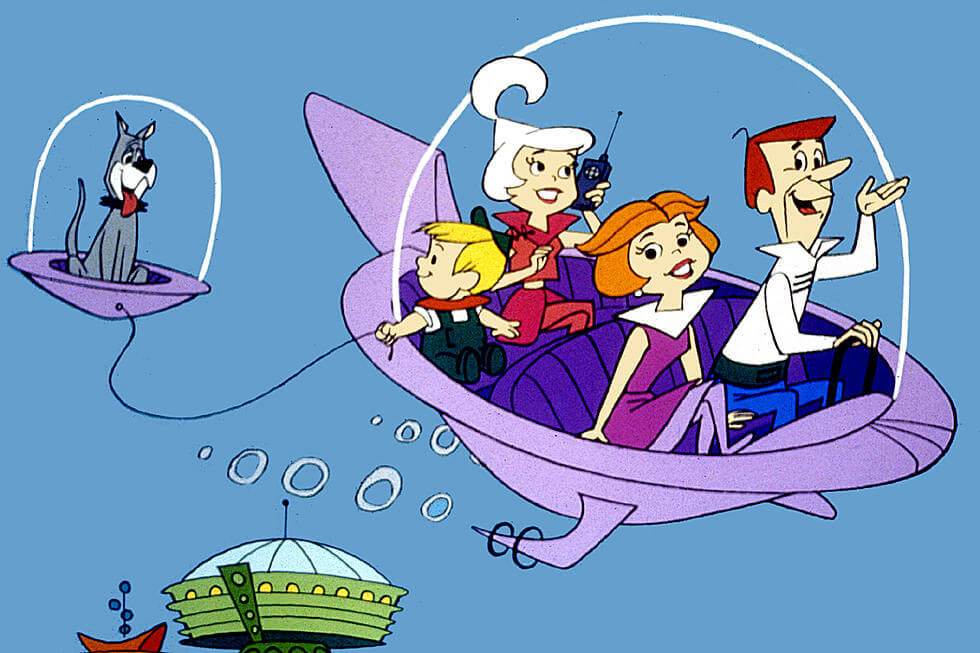 Robotaxis in Republican state of Arizona have been operating for years, despite the high-profile case in Tempe, AZ where an Uber self-driving car killed a pedestrian while the car's backup driver watched "The Voice" on her smartphone. The backup driver Rafaela Vasquez pleaded guilty to one count of endangerment and was sentenced to three years of probation.
The Godfather of AI Warns Humanity of the Risk He Created
After seeing the power of large language models and OpenAI's ChatGPT, Geoffrey Hinton thinks the chatbots will soon be smarter than humans. Plus, they learn and store every new interaction with a human and can pass on the knowledge to its previous version in a manner humans can't. And as AI starts to understand the world, the chatbots can learn deceit and other bad habits from humans, processing zillions of times more information than human brains can. Hinton argues that since our own experience is subjective, we can't rule out that machines might have equally valid experiences of their own, approaching the dreaded sentient being status.
Criminals Have Created Their Own ChatGPT Clones
Cybercriminals have created their own versions of the ChatGPT. Offered to scammers and hackers on the dark web, the systems can create scripts, malware, and scam text and email messages at large scale. Unlike the LLMs made by legitimate companies, these chatbots are marketed for illegal activities and are stripped of the guardrails that prevent nefarious creations.
AI-assisted Research Finds New Cures
Meanwhile, robots, computers, and algorithms are hunting for potential new gene therapies in ways humans can't—by processing huge volumes of data and building previously unimagined molecules. Of course, they could also find the perfect virus to wipe out the human race. What could go wrong?
Lost in Space – Technology News in August, 2023
A Faulty Command Loses Contact with the Voyager 2 Deep Space Probe
NASA uploaded the wrong version of a software command to the Voyager 2 craft now 12 billion miles away which caused the probe's antenae to point 2 degrees away from Earth. They discovered the human error when they next listened for the craft's phone home and heard nothing. In a hail-Mary measure, NASA used an array of high-power antenae to "shout" the correct command, which miraculously caused the craft to line up its antenae with the Earth so it could resume sending data. Voyager 1 and Voyager 2 were launched in 1977 and their tiny nuclear power plants will eventually shut down completely, leaving them hurtling dead through the frozen expanse of interstellar space.
India Lands Spacecraft on Moon's South Pole
India's Chandrayaan-3 mission has successfully landed on the moon's south pole. The Vikram lander touched down at around 6:04 PM on Wednesday, August 23rd. This is the first time a spacecraft has landed on the moon's south pole, and area thought to contain water ice. The lunar water could also serve as a source of oxygen, another vital material not readily found on the Moon, and hydrogen, which could be used as rocket fuel. The Chandrayaan-3 mission is India's third lunar mission. The previous attempt to land on the moon's south pole failed in 2019. The Chandrayaan-3 mission is seen as crucial to lunar exploration and India's standing as a space power.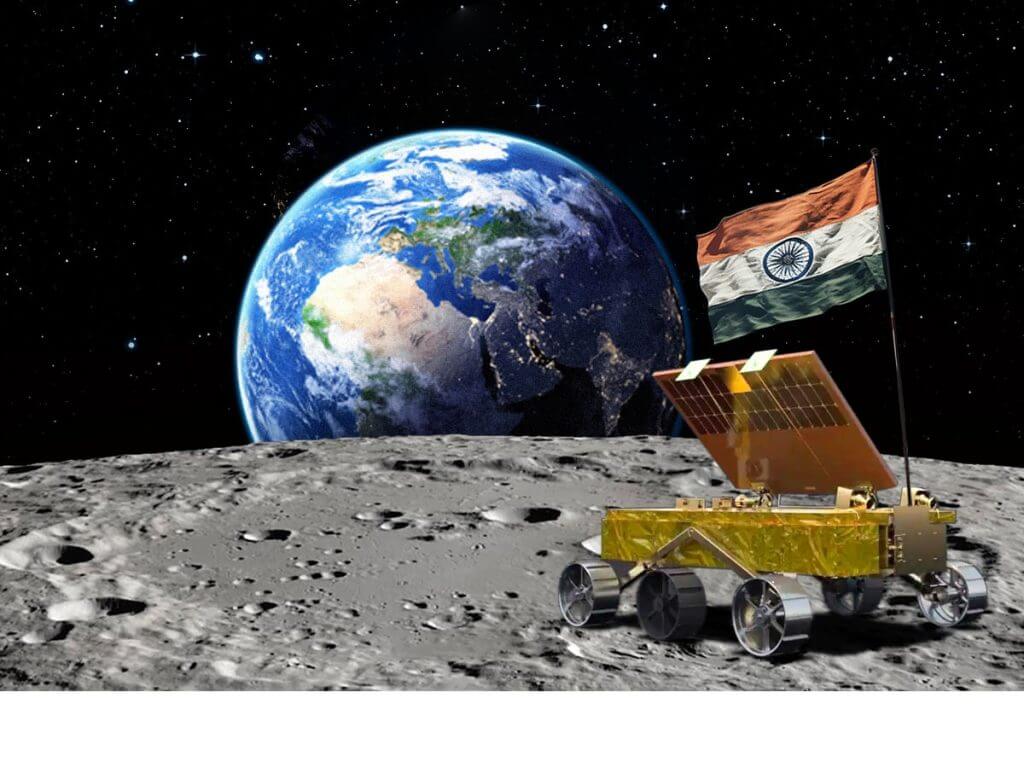 Russia's first lunar mission in decades crashes into the moon
India's successful landing on the moon came three days after a similar Russian attempt crashed into the lunar surface. The spacecraft was meant to complete Russia's first lunar landing mission in 47 years. The country's last lunar lander, Luna 24, landed on the surface of the moon on August 18, 1976.
International Space Station is Being Retired
The International Space Station (ISS) is being retired because it is getting too old and expensive to operate. The ISS has been in orbit for over 25 years and is showing its age, such as cracks and air leaks. The ISS will be vacated in 2030 and de-orbited the following year. It will fall to earth into an uninhabited area in the Pacific Ocean.
The ISS will be replaced by commercial space platforms. NASA is placing an emphasis on a seamless shift to future private space stations in low-Earth orbit. In 2020, SpaceX successfully launched two NASA astronauts to the ISS on the company's Crew Dragon, demonstrating that it could deliver people to and from space for the agency.
Meanwhile, and despite ongoing tensions over Russia's invasion of Ukraine, the US and Russia are still cooperating on flights to the International Space Station (ISS). On October 5, 2022, a SpaceX Falcon 9 rocket carrying a multi-national crew, including a Russian cosmonaut, took off for the ISS. Russia has commited its cooperation until 2028.
The US Space Force Activated Its First Targeting Squadron
The 75th Intelligence, Surveillance and Reconnaissance Squadron was activated on August 11, 2023, and is responsible for developing and employing space-based intelligence, surveillance, and reconnaissance. The Space Force is developing new space-based weapons, including lasers, kinetic energy weapons, and electronic warfare systems. These weapons are designed to protect US space assets from attack and to deter adversaries from using space for hostile purposes. The Space Force is increasing its presence in the Arctic, as the region becomes increasingly important for space operations, with a new space surveillance radar in Greenland and a new satellite constellation over the Arctic. The Space Force is also working to improve its cyber capabilities, as space systems are increasingly vulnerable to cyberattacks.
Climate, Weather, and Catastrophe News in August, 2023
Maui Wildfire is the Deadliest Ever, Killing More Than 100
On Hawaii's island of Maui, a wildfire barreled through the city of Lahaina at a mile per minute, destroying more than 2,200 buildings and killing more than 100 people, making it the deadliest wildfire in US history. The wildfire was fueled by hurricane winds that cut power and communications to the town. In fact, the blaze was likely started when power lines were blown down by the high winds. Given practically no warning, victims were found in their beds and in cars stuck in gridlock. Others jumped into the ocean to escape the blaze, while tourists sheltered in pools as the hotels around them burned.
The disaster was inevitable, and predicted by a report in 2021 on the invasive grasses that have taken over abandoned sugar cane plantations. The report said the grasses posed a catastrophic fire risk, but no action was taken.
The Heat Dome and El Nino Drive Record Temperatures
100 million Americans are under excessive heat alerts thanks to a cap of extra-hot air, known as a heat dome, that settled over the West and South, pushing temperatures over 100 degrees for weeks on end. Highs will stay above 110 degrees Fahrenheit in Phoenix; California's Death Valley is flirting with 130 degrees; and Texas's grid is struggling to keep the AC on. (Texas has a private energy grid, in order to skirt federal regulations. When extreme temperatures target Texas, the grid cannot get extra energy from out-of-state electricity producers.)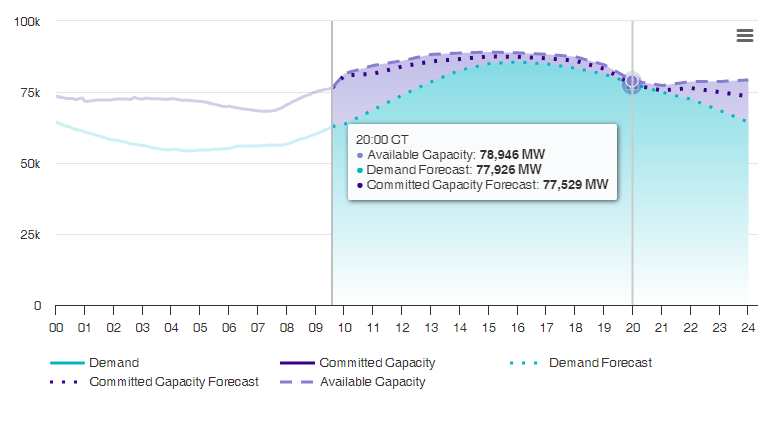 While heat domes aren't new, their extent, duration, and extreme temperatures could be attributed to the global climate change.
Canadian Wildfires Scorch an Area the Size of Alabama.
There were still 225 major uncontrolled wildfires and another 430 under some degree of control but still burning across the country. At one point, the figure was more than 1,000 fires! To date, they have burned some 32.4 million acres of Canadian woodland, or 50,625 square miles—an area the size of the state of Alabama.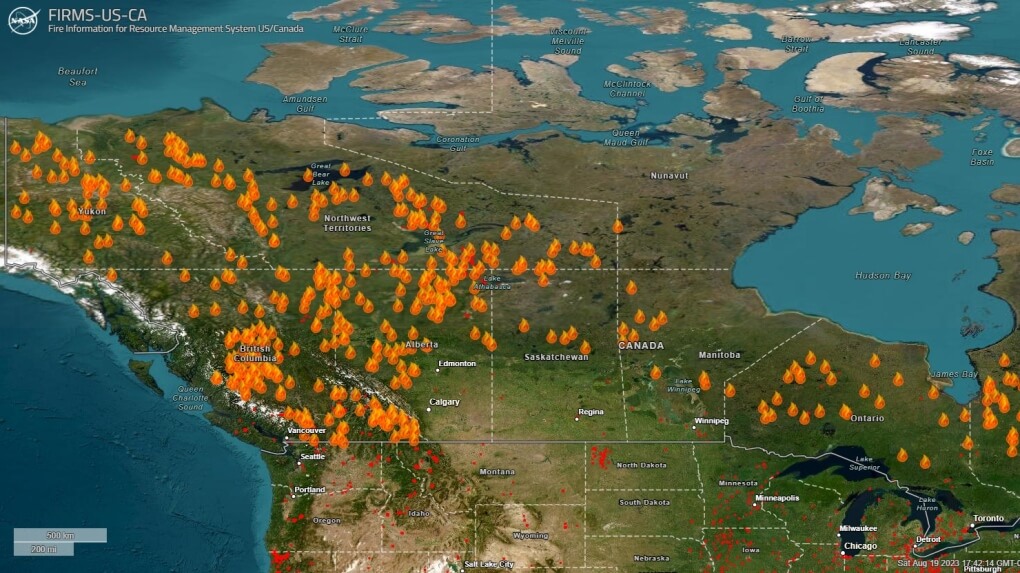 Heat Kills
Excessive heat kills an estimated 12,000 per year in the US, but it doesn't get the same attention as hurricanes, floods, or tornadoes. A recent study predicted that if the power grid failed in Phoenix during extreme heat, 13,000 people would die.
California Ends Drought After Tropical Storm Hilary Dumps Flooding Rains on Southern California and Arizona
California saw its first tropical storm in 84 years, and some areas received a year's worth of rain in only a few hours.
US Politics
Georgia Indicts Trump and Cohorts for 2020 Election Fraud
The former president and 18 of his allies, including Rudy Giuliani, have been indicted on a range of criminal charges relating to the former president's attempts to alter Georgia's 2020 election results. Mr. Trump has been charged with 13 counts including racketeering, filing false documents, and attempting to coerce public officers to violate their oaths, according to court documents. Rudy Giuliani is furious that Fulton County District Attorney Fani Willis has charged him using the same RICO law he has long taken credit for pioneering.
So far, Trump faces felony charges in New York for lying about the hush money payment made to porn star Stormy Daniels, the case in Florida over mishandling top-secret documents and then colluding with employees to cover it up, and charges in Washington, D.C. over his role in the January sixth insurrection. In total, Trump is facing 91 felony charges.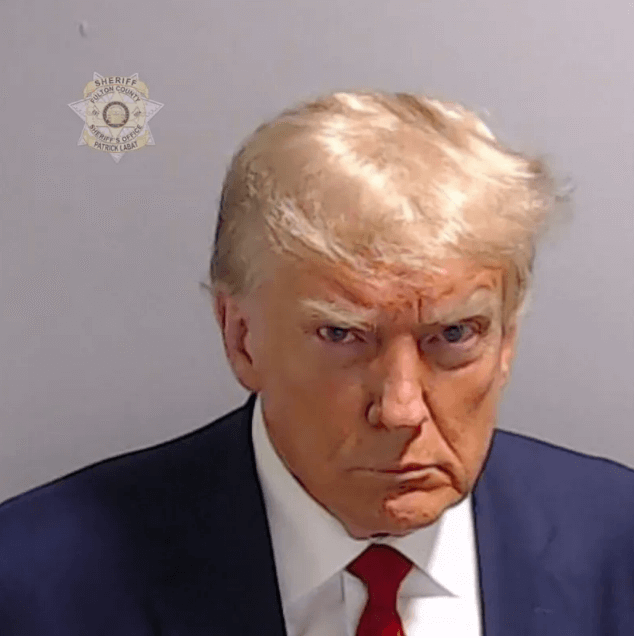 Republicans Vie to Replace Trump in the First Primary Debate
More than fourteen months from the 2023 election, the first Republican presidential primary debate took place in Milwaukee, Wisconsin. The nearly-billionaire and staunch Trump supporter Vivek Ramaswamy appeared to be a contender, despite no public service experience. He is a former CEO of Roivant Sciences, a biotech company, and Strive Asset Management, a financial investment firm. He is also the author of the book "Woke, Inc.: Cancel Culture and the Threat to Free Speech. The candidates who qualified and appeared are:
Florida Governor Ron DeSantis
Senator Tim Scott of South Carolina
Former South Carolina Governor Nikki Haley
Entrepreneur Vivek Ramaswamy
Former Vice President Mike Pence
Former New Jersey Governor Chris Christie
North Dakota Governor Doug Burgum
Former Arkansas Governor Asa Hutchinson
Notably, former President Donald Trump, who is leading in the polls, has chosen not to attend the debate. Instead, he will appear in a recorded interview with former Fox News host Tucker Carlson. on Twitter, now rebranded as "X" by Elon Musk.
Trump surrendered to authorities in Fulton County, Georgia, on Thursday, August 24, 2023. He was booked and processed, and then released on a $200,000 bond on charges of felony solicitation to commit election fraud and conspiracy to commit election fraud.
The American Culture War
North Carolina Attacks the Climate and Trans Rights
The Republican-controlled state congress in North Carolina passed several "anti-woke" laws, overriding the Democrat Governor's veto. Transgender women and girls are banned from playing on womens' sports teams from middle school to college. Gender transition treatment for minors is now outlawed, and providers who do so anyway can face penalties. Curriculum that addresses "gender identity, sexual activity or sexuality" is outlawed in kindergarten through 4th grade, and parents must be notified if a child tries to change their name or pronouns at school.
In response to efforts to curb carbon emissions, it's now illegal for the North Carolina Building Code Council to change regulations that address energy efficiency in construction. The law is a setback for efforts to address climate change, and a reminder of the power of special interests to block progress on important issues.
Republicans Target LGBTQ Rights
But North Carolina is not alone in passing laws that limit LGBTQ citizens' rights. Hundreds of bills targeting LGBTQ people – particularly transgender people – have been introduced by Republican lawmakers in statehouses across the country. The legislation seeks to regulate what bathrooms they can use, what medical care they can receive and what sports teams they can play on.
These bills are based on the false premise that transgender people are a threat to others. They are discriminatory and harmful to transgender people, who are simply trying to live their lives. Here are some specific examples of these bills:
Arkansas: A law that prohibits transgender women and girls from participating in school sports that match their gender identity.
Florida: A law that prohibits classroom instruction on sexual orientation or gender identity in kindergarten through third grade, aka the "Don't Say Gay" law.
Idaho: A law that prohibits transgender students from using the bathroom that corresponds with their gender identity.
Tennessee: A law that prohibits transgender people from changing their gender marker on their driver's licenses.
Texas: A law that prohibits transgender minors from receiving gender-affirming medical care, such as hormone therapy and surgery.
These bills are part of a larger trend of anti-LGBTQ legislation being introduced in states across the country. This legislation is being supported by conservative groups that are seeking to roll back the rights of LGBTQ people.
The American Medical Association, the American Academy of Pediatrics, and the American Psychological Association have all opposed these bills, stating that they are harmful to transgender people and that there is no scientific basis for them.
The Human Rights Campaign has called on Congress to pass the Equality Act, which would prohibit discrimination on the basis of sexual orientation and gender identity in all areas of life, including housing, employment, education, and public accommodations.
Despite Laws to Suppress and Control Them, More Americans Identify as LGBTQ
According to a 2022 survey by the Pew Research Center, an estimated 7.1% of adults in the United States identify as lesbian, gay, bisexual, transgender, or queer (LGBTQ). This is up from 5.6% in 2017. The survey also found that the percentage of LGBTQ adults is higher among women than men. For example, 8% of women identify as LGBTQ, compared to 5% of men. The survey did not ask about the specific identities of LGBTQ adults. However, other surveys have found that the most common LGBTQ identities are lesbian, gay, and bisexual. Transgender people make up a smaller percentage of the LGBTQ population.
However, mot everyone who identifies as LGBTQ will disclose their identity to others, so the actual number of LGBTQ adults may be higher. The increase in the percentage of LGBTQ adults in the United States is likely due to a number of factors, including:
Increased visibility of LGBTQ people in the media and in society
A more accepting and tolerant attitude towards LGBTQ people
More accurate and inclusive surveys
A 2021 survey by the Williams Institute, an estimated 0.6% of adults in the United States identify as transgender. This is up from 0.5% in 2017. However, the term "transsexual" is not always preferred by transgender people. Some people prefer the term "transgender" or other terms, such as "genderqueer" or "non-binary."
The increase in the percentage of LGBTQ adults is a positive development. It shows that people are becoming more comfortable with their sexual orientation and gender identity. It also shows that society is becoming more accepting and tolerant of LGBTQ people.
Target Sales Drop from Conservative Boycott Over Pride Merchandising
Target is facing a backlash from its June Pride Month displays and merchandise. Stores in the South pulled merchandise in response to harassment and threats against employees. The boycott was fueled by social media where the goal was to make Pride toxic for brands, giving them the "Bud Light treatment". (see below) Target released its Q2 2023 report which showed quarterly sales declined 5.4% over last year.
Bud Light Stands by Its LGBTQ Support After Boycott
This month, Anheuser-Busch CEO Brendan Whitworth said that the company will continue to support the LGBTQ community, despite falling sales of Bud Light from a boycott by conservatives who objected to a social media promotion with a transgender influencer.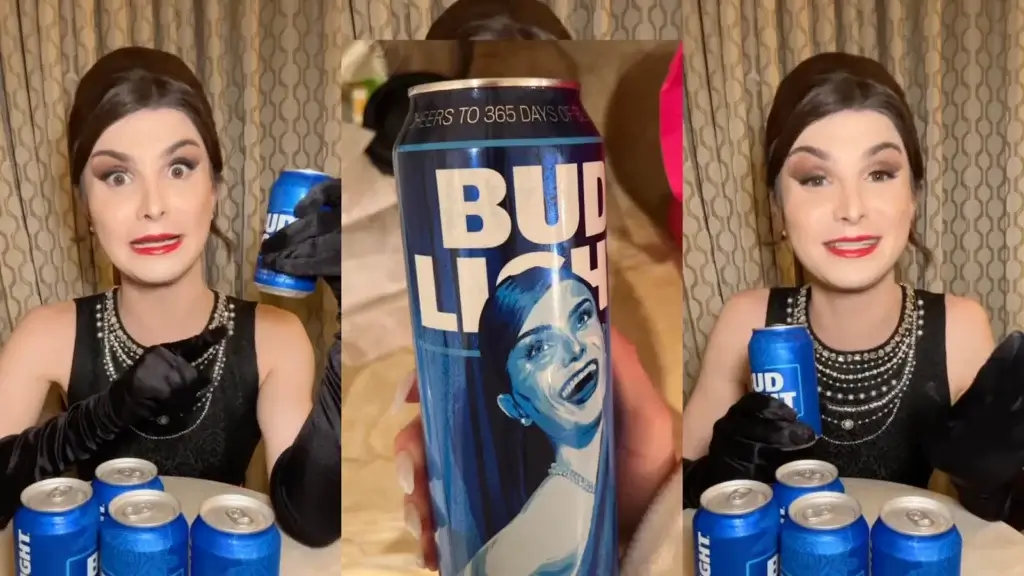 The company's US Q2 2023 revenue dropped by 10%, and profits fell 30%. After the Bud Light boycott, Modelo Especial sales increased 10.2% and became the top-selling beer in the US by revenue, surpassing Bud Light which had held the spot for 20 years. Busch Lite and Michelob Ultra also gained market share. Anheuser Bush, which owns all those beer brands, says sales have shifted but stabilized, and sales of its other brands in the US and abroad helped drive up global revenue last quarter over 7% and profit up 5%, beating analysts' expectations.
Leader of the Wagner Group Dead in Plane "Crash"
The leader of the Wagner Group, Yevgeny Prigozhin, is thought to have died in a plane crash in western Russia on August 23, 2023. The plane, a Tu-154, was flying from Moscow to St. Petersburg when it crashed in the Tver region, killing all 10 people on board.
The cause of the plane crash is still under investigation, but there has been speculation that it was an assassination in retaliation for his short-lived mutiny. The June mutiny came after months of tension between Wagner and the Russian military over supporting his group in the Ukraine invasion.