UPDATE: I am not associated with VBikes in Dallas. Please contact VBikes. Thanks!
If you have wondered about the silver bicycles with yellow wheels parked in downtown Dallas, Ft. Worth, Denton and Las Colinas, here's the 411. I had seen these oversize, silver BMX bikes parked in loose bunches on sidewalks in downtown and Las Colinas, so I decided to give it a try. The most unusual thing about this bike share program is that the bikes are not locked down to a permanent rack, but rather are scattered around on sidewalks and at train stations with their rear wheels locked.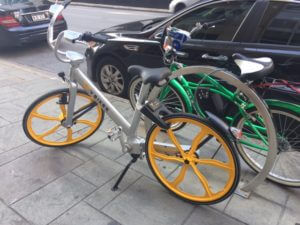 How to Ride VBikes in Dallas
First I searched the App Store for "VBike" with no luck. After searching for "VBikes" I found the app, and its description's full-frontal assault on the English language. There's no pricing, nor mention of how it works anywhere in the description. Like an idiot I downloaded it anyway.
The download and setup was quick and easy, although still lacked pricing. The app requested a $99 refundable deposit via credit card or PayPal, so like an idiot I did that too.
So now I have a new app, money on my account, and time enough to take a spin. The first step is to find a VBike. Not quite so simple though. Upon opening the app you are shown a Google map without even a hint of where to find a bike. You must be pretty darn close before you start seeing bikes pop up on the map. If you didn't already know they were parked downtown, then you'd have no idea where to find one.
Once I found a VBike the rest was easy. I simply turned on Bluetooth, approached the bike, and the U-lock around the rear wheel disengaged. I hopped on and road it down Elm Street, across some sidewalks and even train tracks. The rear wheel is wobbly since it only connects to the frame on one side. The saddle ain't bad, but not adjustable for height. I'd estimate that the seat height will work for people from roughly 5'2″ with a stretch to somebody six feet tall. The square, solid rubber tires weren't rough, but tended to wash out in sharp turns. The VBike is single speed with two hand brakes whose brake lines are completely hidden. There is a generator-driven light system using the front wheel that sounded like semi truck using air brakes. Love the "twist-grip" bell though.
I really don't know where the designated sidewalks are supposed to be, so I just returned it to the same place, manually closed the rear wheel U-lock, and the app gave me a trip summary with the cost and mileage, and trip details including how much carbon emissions I saved. According to the website, future improvements include saddle height adjustment and the ability to "save" your bike so you don't have to worry about the return trip.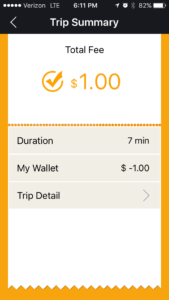 How Much Does VBikes Cost to Rent?
The only place you can find the cost to rent a VBike is on their website, or after the fact when you check the app. The cost to rent a VBike is $1 per hour, with a $10 maximum for a 24 hour period. So my quick spin around downtown Dallas cost me a buck. Cheaper than a cup of coffee and healthier as long as you don't get run over by a bus.
I supposed after some amount of time my fare would have been deducted from my deposit balance, but I had no credit on my account, so I loaded another $5 via PayPal.
Final Review on VBikes in Dallas
In short, the VBike is a 50 pound rental bike good for short distance, quick trips, lunch breaks, errands or meetings when it's too close to justify driving. A VBike would also work well for a spin around the Trinity Skyline Trail or up and down the Katy Trail, but for a longer ride you're better off renting something lighter and more comfortable.
Out-of-towners such as tourists or couchsurfers can use DART and a VBike for a combined $15 per day, so it's a great money-saving way to have fun, travel green, and improve your bike handling skills weaving around cars and homeless people.
VBikes Links and News